Why Choose Composite Decking?
Wood decking may represent leisure to many homeowners, however it requires a fair degree of yearly maintenance. Given that homeowners time and financial resources are precious, composite decking materials have become very popular.
When you're researching deck lumber, don't limit yourself to wood decking. There are some great new deck materials such as composite decking which may offer better value and a more modern appearance. Wood decks, whether cedar decks or pressure-treated pine decks aren't as resilient and durable as most composite decking materials. Most composite decks last and they require very little maintenance. Certain decking is composed of materials that don't scratch, break or discolor easily. You will notice that some composite decks are more forgiving of everyday wear and tear and of unusual events that might cause severe damage to a wooden deck. All composite decks vary in durability. Come to Botello's and see our decking samples today.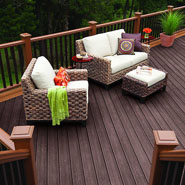 Trex Decking
Trex is the world's #1 decking brand and the inventor of wood-alternative composite decking. From the beginning we've been committed to helping you create a low-maintenance, high-performance backyard retreat that can handle the outdoors without depleting them, and will do so for decades. Because your weekends should be spent relaxing on your deck, not repairing it.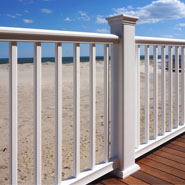 Transform Railing
Transform has the elements that you want in a wood railing – the weight, look and feel of wood, and nothing that you don't. Although Transform contains no wood, it has the appearance of wood, shares a similar heaviness, and installs without special tools. Transform provides superior strength and dependability in a product that is as easy to work with as traditional materials.