Botello has the Right Wood Decking for Your Project
Pressure-treated wood decking is far and away the most popular decking surface in use today, but there are many other real wood choices that offer a natural resistance to rot and insect damage. These woods include Western Red Cedar, Redwood, and some species of tropical hardwoods. One of the very best natural deck surfaces is a group of South American hardwoods called Ipe ("Ipe" is Portuguese for hardwood). These are extremely dense, tight-grained woods, dark in color and virtually free from knots. Ipe is very hard, heavy, and difficult to work with but is also very beautiful and is nearly indestructible.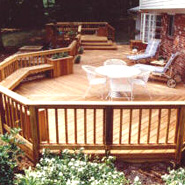 Pressure Treated Decking
Pressure Treated Lumber is the material of choice with both professionals and do-it-yourselfers for projects exposed to the rigors of weather, hot, humid climates, mold, and termites. This economical building material offers all the benefits of wood, plus built-in resistance to decay and termite damage.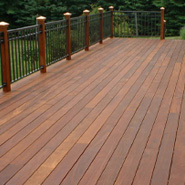 Ipe Ironwood Decking
Ipe naturally resists rot, decay, insects, and mold without the use of toxic chemicals used in other decking products. Additionally, Ipe is an incredibly strong, dense wood, harvested from naturally sustainable forests only. It has very high wear durability in daily use, and is resistant to splintering and checking.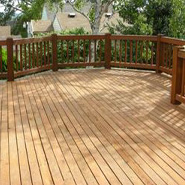 Western Red Cedar Decking
Cedar is naturally resistant to decay and insect damage. Its unique "grown-in-the-wood" preservative oil means that no further chemical treatment is needed, unless the lumber is in direct contact with the ground. Stability? Cedar lies flat, stays straight, retains fasteners and provides a firm base for paints and stains.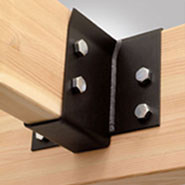 Simpson Strong Tie Connectors
Connectors are steel components designed to connect and strengthen joints within the frame of a home.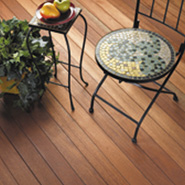 Mahogany Decking
Virtually maintenance free with no painting, staining or sanding required. Impervious to insects, corrosion resistant with consistent quality and appearance. No time spent picking through warped or split wood, Evernew is safe, strong and durable. Safe for animals with splinter-free surfaces that are environmentally friendly. Lifetime warranty protection.